Join us for an exclusive presentation by industry leading experts, Blue Aruba Rentals. Discover innovative techniques and expert insights to transform your vacation rental into a thriving haven of hospitality!
Key Highlights:
Industry Insights: Learn from the pros! Gain valuable knowledge about current trends and future predictions.
Success Strategies: Master the art of guest satisfaction, operational efficiency, and revenue maximization.
Networking Opportunities: Connect with fellow vacation rental owners and managers. Share experiences, tips, and build lasting relationships.
Date: November 29, 2023
Time: 10:00 A.M. – 12:00 P.M.
Location: Impact Hub Aruba, Weststraat 2 – Harbour House
Registration Fee: AWG 50 per person. Payment via Bank Transfer or by ATM at Impact Hub Aruba.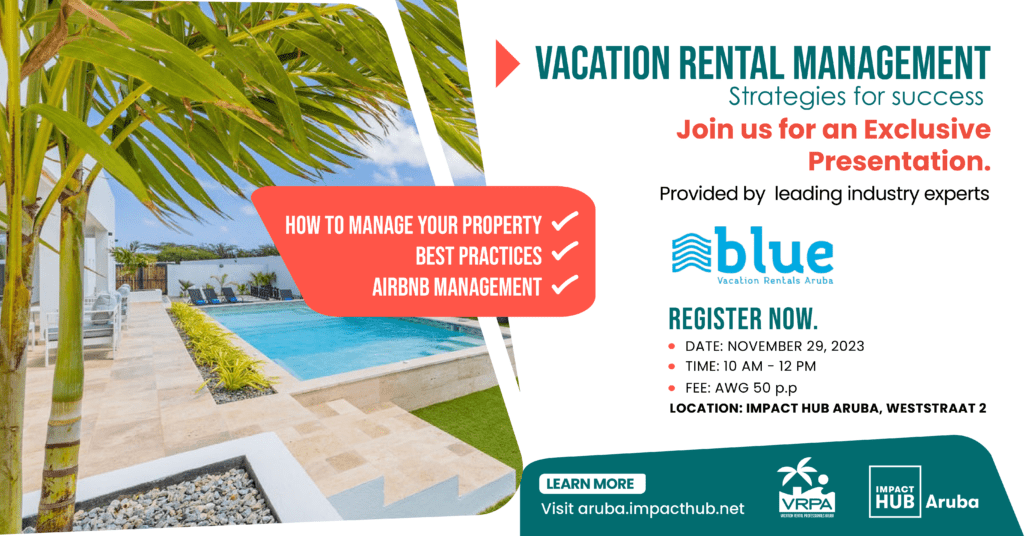 Vacation Rental Management: Strategies for Success