Enroll in 'Foundations of Entrepreneurship': Unleash your Inner Entrepreneur.
Course Duration: 4 Weeks
Start Date: October 9, 2023
End Date: October 30, 2023
Time: Every Monday, 6.30 p.m. – 8 p.m.
Price: AWG 400 – Payment via Bank transfer or Debit/Credit. Payment Plan available.
Embark on a transformative journey to becoming a successful entrepreneur with our 4-week "Foundations of Entrepreneurship" Training. Whether you're an aspiring entrepreneur or looking to refresh your entrepreneurial skills, this course offers you the essential building blocks to set you on the path to success.
Facilitators:
Mary-Ann Falconi – Entrepreneur, Co-Founder & General Manager Impact Hub Aruba.
Mary-Ann is a seasoned entrepreneur who started her first business at just 27. With 13 years running a Marketing Communication Agency and experience as a multi-sector consultant for large corporations, she's a wellspring of business wisdom. As the Co-Founder and General Manager of Impact Hub Aruba, she's fused entrepreneurship with sustainability. Beyond her roles as a business leader, Mary-Ann also shines as a business coach and mentor.
Ivy Lacle – Entrepreneur, Digital Marketing Expert & Facilitator
Ivy is a multifaceted entrepreneur and an expert in the realm of digital marketing. She's the driving force behind Be Social, a digital marketing agency that serves as the strategic partner for several big-name brands. As a facilitator, Ivy combines her marketing expertise with a knack for guiding aspiring entrepreneurs. Her actionable insights and industry knowledge make her an invaluable resource in the "Foundations of Entrepreneurship" Training.
Register Today!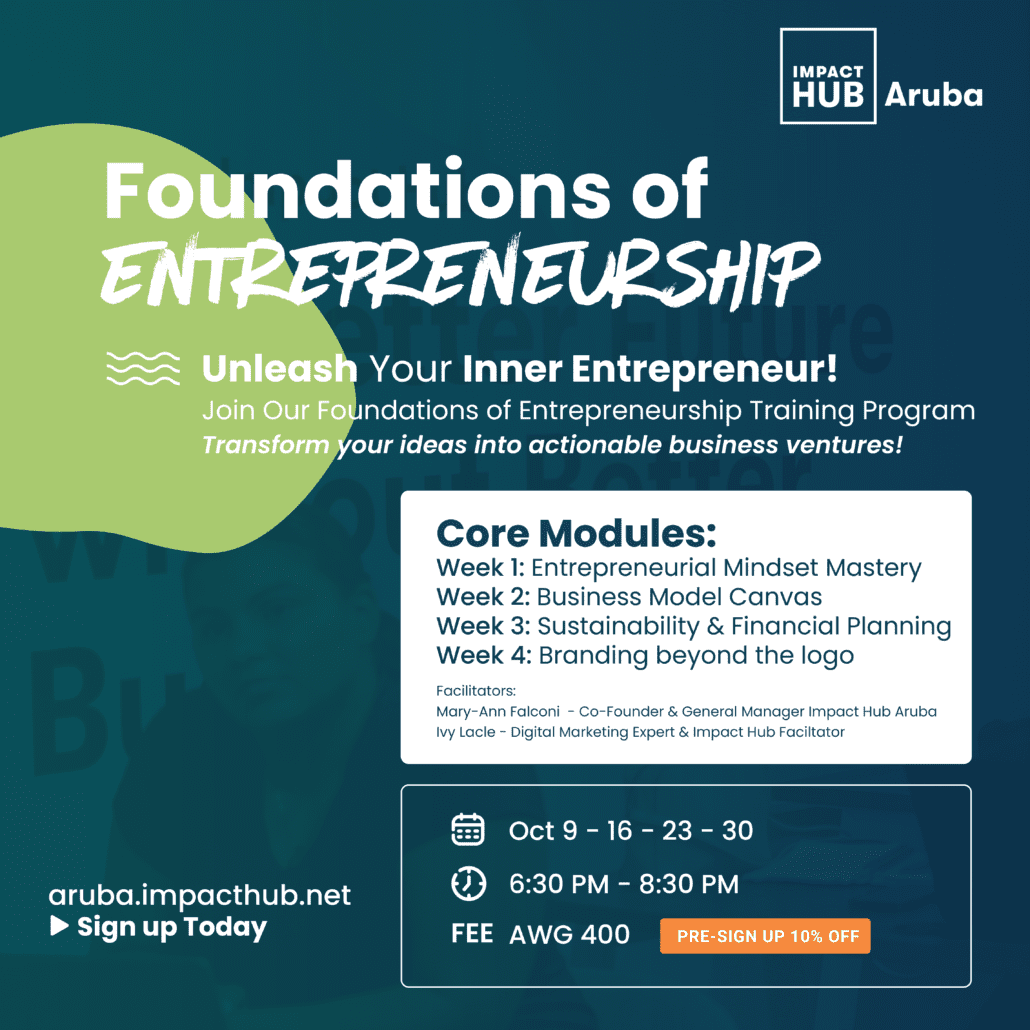 Foundations of Entrepreneurship