Evolve: Business Transformation Accelerator
Transform Your Business in Just 12 Weeks
Are you an entrepreneur or business leader striving to adapt, grow, and excel in today's fast-paced, ever-changing market? If you answered yes, Evolve is designed explicitly for you.
Program Highlights
🌱 Entrepreneurial Mindset Profile
Cutting-edge assessment tool that examines participants skills and capabilities to drive innovation & growth.
💡 Business Model Assessment & Redesign
Analyze your existing model and pivot strategies to maintain market relevance.
💰 Financial Planning Reset
Reset and adapt your financial models for the modern marketplace.
📢 Marketing and (Re)branding
Revamp your brand to resonate with a changing customer base.
📍 Business Repositioning Toolkit
Strategic tools to realign your business in a new or evolving market.
🤖 AI 101
Get a deep dive into AI and how it can offer you a competitive edge.
📱 Social Media Management
Optimize your social media channels for engagement and conversions tailored to your seasoned audience.
Ideal Candidates
Seasoned business owners experiencing stagnant growth or declining revenues.
Entrepreneurs facing challenges in adapting to new market trends or technologies.
Long-standing enterprises looking for a modern reboot.
Take advantage of this amazing opportunity – sign up today!
Dates: October 11 – December 14
Time: 6:30 PM – 8:30 PM
Location: Impact Hub Aruba, Harbour House
Price: AWG 2500* (Payment via Bank transfer or Debit/Credit)
*A down-payment is required. Payment plan is available.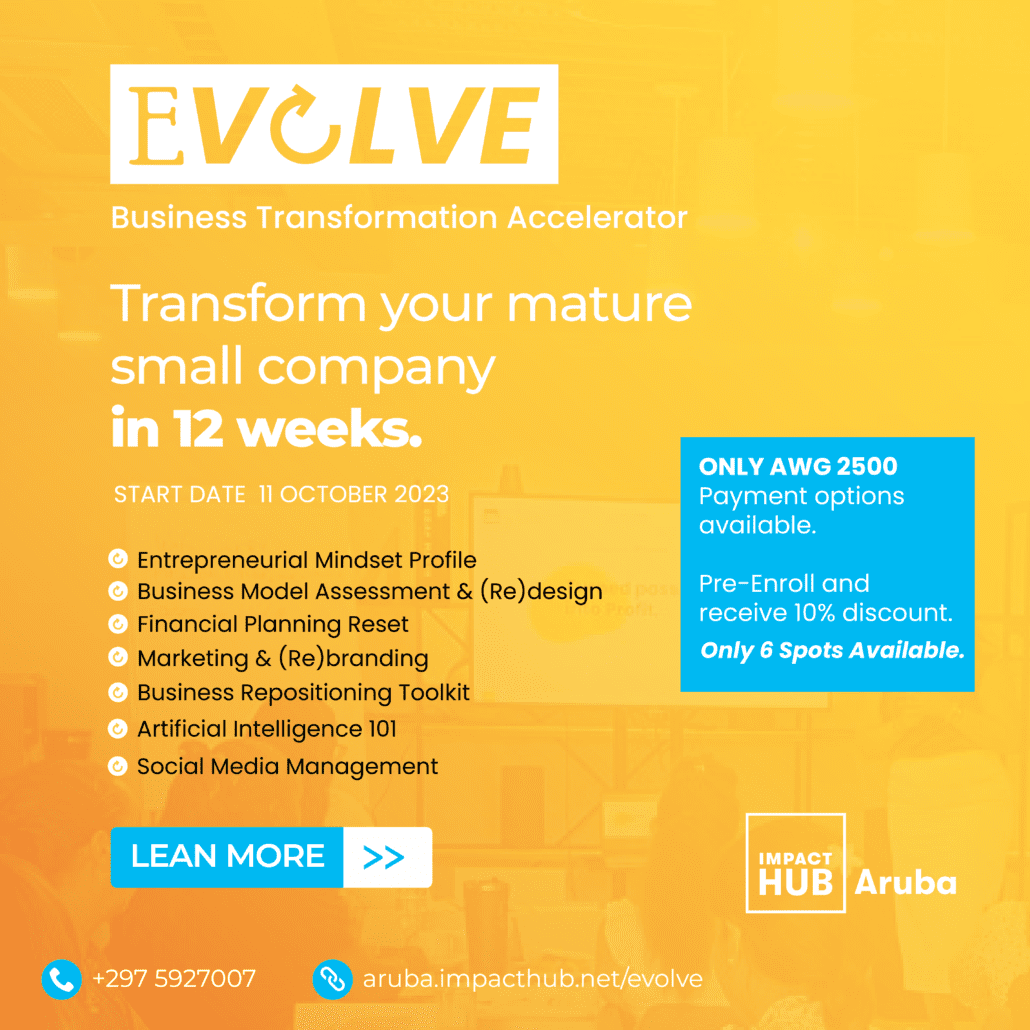 Evolve: Business Transformation Accelerator